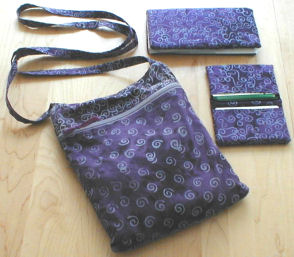 This is a cute handbag with matching checkbook cover and credit card case (which folds closed). The bag is light and easy to carry, and has a handy-dandy back pocket for grocery lists, etc. The trio is made in quality quilting cotton featuring several different batik prints. For the bag, I used the Lazy Girl Designs "Run Around Bag" pattern. It was super-easy, with all of the pieces rotary cut, and the zipper put in the Lazy Girl way. The checkbook cover and credit card case are from patterns I drafted myself.
This is a cute little shoulder bag, just right when you need to carry more than fits in a pocket but don't need or want a full-sized purse/handbag. It can be made with just two coordinating fat quarters and a 12" zipper. The instructions were extremely easy to follow. I am one of those sewers who usually makes something up in a completely different way than the pattern suggests. However, for this one, I followed the very easy, clear directions as written and the whole thing went very smoothly. The pattern called for batting in the back, but I didn't bother with it and the purse is quite nice without it. If you were using a flimsier fabric, you might need the batting. (But then, a flimsier fabric wouldn't be ideal for this bag anyway.) I wouldn't use a cheap cotton - I don't think it would be sturdy enough, even with the lining. It seemed a bit nuts at first to spend $8 on a pattern to make something this simple, but the instructions were so well-written and well-thought-out that it was well-worth the money. I was extremely pleased with my bag and use it every day. If you have a couple of fat quarters you love but don't know how to use, give this pattern a try! See my full pattern review here.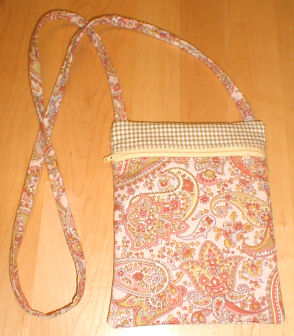 Using the same Lazy Girl Designs "Run Around Bag" pattern, I made this bag for one of my daughter's friends. It is made of two home dec fabric samples, and is not lined because of the thickness of the fabric. I love the way the color of the zipper becomes a design element. The prints are greener than they appear in this picture. The recipient was thrilled, especially when I pointed out that it had been custom designed for her, and no one else in the whole world had one.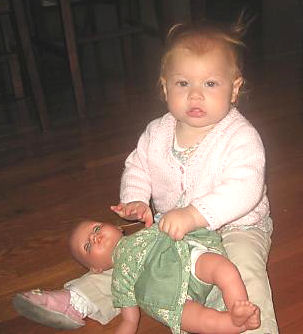 Here is a doll dress with matching diaper. I drafted the pattern myself, based on several vintage doll outfits and some things I had made before. It was made to fit this particular doll (who came wearing something horrid in polyester). I chose some nice cotton with a vintage daisy print. The cloth diaper closes with velcro, and there are two so they can be changed. The outside coordinates with the dress, and the inside layer is made of diaper fabric. The dress closes in back with a snap, which makes it easy to remove, but lasts much longer than velcro. The attached apron gives it a vaguely European feel. (My mom made the knitted shrug.)