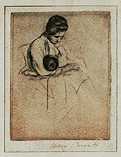 "If everyone thinks alike then no one is thinking."
Please take the information you find useful from these pages and ignore the rest.

This web page by Pauline Harding for Art Nurk.
Contents may be copied if credit is given.

La Leche League International
Breastfeeding information and support from the real experts - experienced moms!

La Leche League of Delaware County & The Main Line, PA
Information about local La Leche League meetings.

The Philadelphia Breastfeeding Resource Handbook (2011), Philadelphia Breastfeeding Resource Handbook 2010
The lactation consultants at the Philadelphia Department of Public Health's Breastfeeding Promotion program put together this massive list of local, regional, and nationwide breastfeeding resources. If you're looking for Philly-area resources like breastfeeding support groups, a lactation consultant, breastfeeding classes, or a human milk bank, it's all here. Even if you're not in Philly, you'll be interested in the educational materials, clinical advice, drug reference tables, statements about breastfeeding from various organizations, etc. This page has a link to download the most recent version of the Handbook.

Nursing Clothing
My friend made this great list of places that sell clothing made for the nursing mom. Find everything from a dress or bathing suit with nursing openings to cool t-shirts.
She also has a great list of sites selling Nursing Advocacy items, incuding stickers, mugs, t-shirts, and so on.

WABA: World Alliance for Breastfeeding Action
A global network of individuals & organisations concerned with the protection, promotion & support of breastfeeding worldwide.

The Business Case for Breastfeeding
A program to educate employers about the value of supporting breastfeeding employees in the workplace. Tools to help employers provide worksite lactation support.

BanTheBags.Org
Hospitals should market health, and nothing else.
"